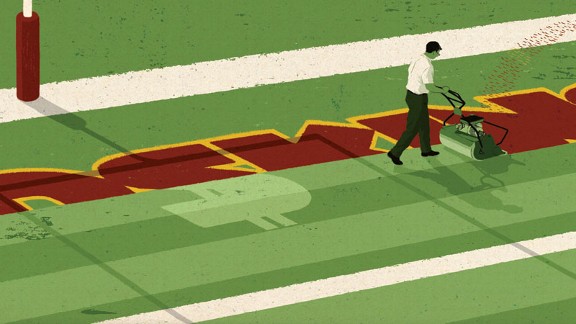 What the hell is it with D.C? A crack smoking mayor got another job, blowjobs in the Whitehouse shut the city down, total gridlock in Congress and no bipartisan cooperation have made Obama's life a living hell, and the changing of offensive team names has become commonplace. Is it the fact that it's the nation's capital and we shouldn't have a basketball team named the Bullets (guns don't kill people, bullets kill people) to set some sort of example? I'll never come around to the name Wizards, and rightfully so, it's ridiculous. Having said that, the Washington Redskins find themselves in a similar predicament and my biased fan brain doesn't know how to act.
I'm coming into this argument without numbers; without extensive research or a clear road map of what I want to say. I'll be letting my brain throw thoughts out there, hoping a few of them stick. In other words I'll be doing exactly what the assclowns talking heads on ESPN do every day, only I'm not getting paid to tell Disney's lies and sell you Bud Light.
I have sympathy for the Native American population that feels the name Redskins is offensive, I really do. Europeans landed here, stole their land, founded a new country atop the ashes of their dying culture and traditions, then eventually killed almost all of them and marched the survivors to unwanted land in the Midwest (which we later stole, again). I get it.
I understand that there was a mass genocide of original Americans and what remains of their population should be a reminder to every American today where we came from and the evils that we are capable of. It takes an understanding of historical context and only a small amount of humility to see that the name Redskins should simply go away when looking at it in this light.
Still, I don't know where I stand on the issue. And like many Redskins fans I resent the fact that 27 years into rooting for a team I love, I find out I've been retroactively racist towards Native Americans my whole life. That was never my intention, I swear it. Every time I sang "Hail to the Redskins" I didn't have hate in my heart, I wasn't screaming the word Redskins to anger anyone. To me, it's just the name of the football team I love; whether or not that's me simplifying a complex issue, or me fighting back against the constant stream of political correctness sweeping the country, I don't know. But as the news spread and public opinion did a complete 180° from apathy to outrage, I found myself asking why?
It's becoming too much, this "you can't say that" way of thinking. Everywhere you turn there's someone getting offended, someone reading too far into harmless comments and ruining the fun for everyone else. Not to say the name Redskins is harmless, or that the ones offended are in the wrong; but it's been the team's name for eighty plus years and as far as I know our poor treatment of the Native American population has little or nothing to do with a professional football team in Washington D.C.
Yes, former owner, George Marshall was a fulltime racist during his tenure as owner. It's hard to forget that the Redskins were the last franchise to segregate (1961), and even then it was a begrudging acceptance of times changing that forced Marshall's hand. If you think Donald Sterling is a sonofabitch you clearly don't know George Preston Marshall.
So, the team has a rich and powerful bigot in its distant past, a name that invokes outrage in a growing percentage of the population, and most importantly, an owner who doesn't give a shit. Why doesn't Dan Snyder care what people are saying about his team? Has he watched the commercial that's making its rounds across the country? Does he think starting the Washington Redskins Original Americans Foundation was a good idea? He put the word Redskins in the name! Is he that out of touch or just a complete idiot?
I don't have the answers to those questions, except to say YES, Dan Snyder is an idiot.
Like many lifelong Redskins fans though, Snyder is blinded by his biases; he remains the Fanboy we all see him as, not the strong owner and compass the organization needs right now. It's been his unwavering stance on not changing the name that has lit the fires hotter and brighter amongst the protestors. If he had shown even the smallest amount of understanding when they (once again) voiced their problems with the team name, things may have gone differently.
But no, he's gone as far to say the following:
 "We will never change the name of the team…It's that simple. NEVER — you can use caps."
He went on to add that Redskins fans understand the great tradition of the name, what it's all about and what it means. Are you sure about that Dan? Redskin's fans aren't the ones who matter in this instance; in fact we're the only people still on Dan's side. It seems everyone else (news outlets, public officials, almost the entire NFL community, etc.) has made up their minds; the name's gotta go.
The Redskins trademark is also under attack. Since 1991 lawyers all around the country have been fighting to remove the trademark protection of the name "Redskins"; the removal of such protection would make it legal for anyone to make and sell Redskins merchandise. This tactic aims to take a bite out of Snyder's bottom line, hoping that if he loses some money he'll wake up to the moral ambiguity of his own stance. Earlier this month, the trademark was ruled "disparaging to Native Americans" and if the case survives the appellate process Snyder may have to actually deal with this issue.
Until then though, we'll be the Washington Redskins this coming NFL season for sure. So, on top of the questions surrounding RG3's knees, DJax's personality disorder and the other Gruden brother coming to town; in addition to actually fielding a football team, the organization will be answering questions on bigotry and race. That won't lead to any distractions for the team, the fans, or ownership, right?
I've flip-flopped on this issue countless times now. I still wear my Redskins hats, shorts, shirts, and socks. I'm still living in a mindset that can't see a new team name for them, just like Snyder. The Bullets—Wizards swap was enough for one lifetime, and now it seems almost inevitable that the Skins will be no-more sooner rather than later. I'll use this coming season as a farewell tour, I suggest you do that same. When the name changes it'll be sudden and final.
It says a lot about fanhood when all common sense tells you one thing, all rational thought says, "Dude, the name's racist…it's a straight up slur." and even still I find myself torn on the issue. Most likely Redskins fans are the only people left defending the name, and it's only because we don't know any better. It's our team and you already took our basketball team from us, what the hell!?
Still, at the end of the day what we think really doesn't matter and what we think we know about the issue matters even less. There's a small sect of our population that's taken shit since the day we stepped onto their beaches. We took their land, we systematically poisoned and murdered them by the millions, and throwing casino money at them 300 years later simply isn't going to cut it.
It's time to wake up, Skin's fans. The name, the symbol, this way of thinking, it's all antiquated. I'm a Wizards fan now, against my will, but a diehard fan nonetheless. I got over the loss of the Bullets. I think I can manage to buy a few new shirts in exchange for giving a people who demand and deserve respect their long awaited recompense.